Located in Kilkenny, Ireland, farmer Rod oversees 55 acres of land with 20 acres being devoted to apple cultivation. However, what makes his apple orchard so special is that it is completely chemical and pesticide-free, implementing Natural Agriculture techniques. Apples are typically among the fruits with the most pesticides, but Rod made the conscious decision to transition away from chemicals after a frightening experience.
Rod's great-grandfather established the farm in 1922 following Ireland's independence from England. Since then, the orchard has been passed down from generation to generation. Rod remembers his time on the farm as a 10-years-old boy and by 1978, he took over the family business.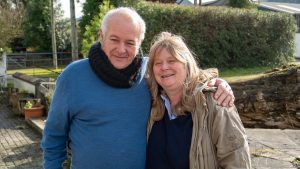 Growing primarily barley and apples, Rod's family has always been uneasy about using chemicals but, like many farmers, felt it was necessary to use chemicals to make a profit in order to provide for the family. It was not until one moment changed the family's farming practices forever. 
When Rod's son was about 2-years old on the field, he unknowingly placed a beaker filled with chemical fertilizer to his lips. Covered in the blue substance and scared he may have ingested it, Rod had his son swallow the natural soil to help neutralize the chemicals in his son's stomach. After rushing his son to the hospital to get his stomach pumped, the doctor shared that if he had swallowed the fertilizer, he would not have made it. 
From 1986 to present day, Rod has officially stopped using chemicals to prevent harm to not only his family, but his customers. After meeting a Shumei Natural Agriculture farmer, Rod has adopted more techniques to bring his land in harmony with nature. Since eliminating chemicals over 35 years ago and practicing Natural Agriculture, the farm has become stronger and healthier. 
Shumei International is honored to connect with farmers like Rod and promote the benefits of Natural Agriculture, healing the land from the effects of harmful chemicals and caring for Mother Earth.