This Monday, October 16th, Shumei International will be celebrating World Food Day by participating in Regeneration International's People's Food Summit.
The 24-hour global event will be an interactive, virtual summit moving across time zones from Oceania, Asia, Africa, Europe, and the Americas. Expert speakers include Dr. Vandana Shiva, Environmental Activist; Karen Mapusua, President of IFOAM Organics International; and Ercilia Sahores, Latin America Director for Regeneration International, who will be sharing their valuable perspectives on the future of global food and farming systems.
This awareness day aims to empower small-scale farmers, provide invaluable insight, create meaningful connections, help scale projects, stimulate citizen-led research, and increase awareness of vital information. The presentations will include farmer-based, real-world examples of agroecology, organic and regenerative farming, permaculture, agroforestry, and holistically managed grazing, that can shine a light on lessons learned and experiences around the world.
During the People's Food Summit, Shumei Natural Agriculture Farmer Shinya Imahashi will be speaking about Shumei Natural Agriculture activities in Japan and the UK, and how this approach teaches farmers how to cultivate wholesome food, using pure seeds without the use of fertilizer, chemicals, or additives and the importance of seed-saving. Through his presentation, Shinya will provide examples of how this approach builds crop resilience through drought and changing climate and allows the soil to regenerate on its own. Attendees and viewers can learn more about Natural Agriculture through his YouTube.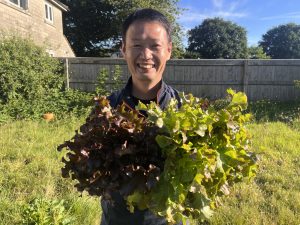 Image courtesy of Shumei International
World Food Day, observed annually by the United Nations on October 16th, serves as a global platform to examine critical issues affecting our world's food systems. This significant day aims to shed light on the UN Sustainable Development Goal (UN SDG) of reducing hunger and malnutrition. It also emphasizes the crucial role played by smallholder farmers in feeding our growing population and promoting food security. Since its inception, World Food Day has promoted a different theme each year to highlight areas needed for action and provide a common focus in agriculture. These themes often incorporate a range of food systems practices, including agroecology, which encompasses regenerative and natural agriculture practices and prioritizes the well-being of the environment, soil health, and local communities.
For more information on the People's Food Summit, please click here.