This October 16th, the Food and Agriculture Organization (FAO) of the United Nations is celebrating World Food Day, with this year's theme being Grow, Nourish, Sustain. Together. The COVID-19 pandemic provided us with the opportunity to think about the important and basic needs in our lives and renew our appreciation with food. During lockdown, home gardening increased throughout the world, as many saw it as a soothing hobby that relieved worries over food security. According to a Reuters article from this Spring, there was  an increase of seed sales throughout the world, with gardeners seeking advice on how to extract seeds from purchased produce to seeds demands rising to 20%-30% in nations like Russia. Local farming and home gardening are ways for people to not only rely less on large scale agriculture, but to also eat more sustainable and healthy food.
Food is the essence of life and continuing to provide access to safe and nutritious food is important as nations continue to recover from the pandemic, especially in poor and vulnerable communities. Because of this, it is more important than ever before to recognize and support our #FoodHeroes, who make sure our food makes its way from farms to our tables, even during the disruptions created by the pandemic.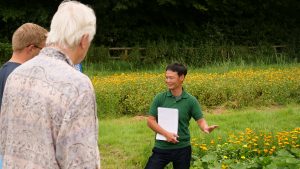 This World Food Day, Shumei would like to take the opportunity to thank our #FoodHeroes and their continued work to grow and provide safe, nutritious food during these unprecedented times. For example, Shumei farmer Shinya Imahashi in Yatesbury, UK created a YouTube channel where he educates others on how to grow food without the use of any additives through Natural Agriculture and how to harvest vegetables and how to save seeds. In just 6 months, Shinya has grown a following of 2.39K subscribers and some of his videos have received 21K views. His videos can be viewed here.
Join us this World Food Day in thanking your local #FoodHeroes. For more information, visit the FAO website here: https://bit.ly/3nL90ZQ