Shumei International is ending 2016 having participated in both the United Nations Climate Change Conference (COP 22) in Marrakech and the Conference of the Parties on the Convention on Biological Diversity (COP 13) in Cancun. These events took place in November and December respectively and involved a gathering of member states, high-level government officials, environmental advocates and experts, and thousands of non-governmental organizations and concerned citizens to tackle the most pressing issues around climate change and the rapid loss of biodiversity.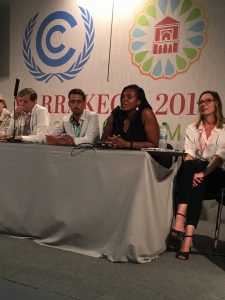 In Morocco, COP 22 adopted a number of decisions, which made clear that the implementation of the Paris Agreement is underway. The Marrakech Partnership for Global Climate Action outcome document states "nothing can stop global climate action".  Shumei co-sponsored a side event in the Green Zone during COP 22 on 'Reframing Food and Agriculture: From Degenerative to Regenerative' in partnership with Regeneration International, a project of the Organic Consumers Association, Biovision Foundation and IFOAM. Shumei's delegate, Barbara Hachipuka Banda, founder of the Natural Agriculture Development Program Zambia, spoke about the benefits of Natural Agriculture practices, such as mulching and saving traditional seeds, which help to mitigate the effects of drought caused by the climate crisis. The event was extremely well attended and streamed live.
The following month, the COP 13 conference took place in Cancun under the theme of "Mainstreaming Biodiversity for Well-Being". More than 8,000 delegates attended the conference, which adopted over 70 decisions on a wide range of topics.  The conference also addressed living in harmony with nature and highlighted the links between biodiversity and agriculture as well as ecosystem restoration.
As a participant, Shumei attended many events and meetings throughout the first week. It was particularly encouraging to hear the call for mainstreaming biodiversity into agriculture sectors and the important role of small-holder farmers and agroecology in food security and community well-being.  There was a strong presence of NGOs focused on protecting seed, plant, animal, and soil biodiversity in the context of sustainable agriculture. Among them were Regeneration International, a project of Organic Consumers Association, IFOAM and Navdanya with Dr. Vandana Shiva.